Synod of Southern California and Hawaii
14225 Roscoe Boulevard
Panorama City   CA 91402
Phone: 818-810-6137 • FAX: 818-8910212
Please note the phone number change

Introducing the Rev. Paula Mann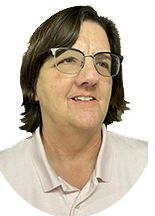 The Rev. Paula Mann is the new Business Manager for the Synod of Southern California and Hawaii.
Paula Mann was ordained in 2008 as a Minister of the Word and Sacrament by the Presbytery of Whitewater Valley (Indiana). She came to the Presbytery of the Pacific to accept her first call at Palms Westminster Presbyterian Church.
After completing her call, she returned to her first career of quality management and quality engineering. Paula has worked in different positions in manufacturing companies before spending about four years as a quality management consultant. Prior to attending seminary, Paula worked for General Motors and Alcoa in various quality system roles. She has a Bachelor of Mechanical Engineering degree from Kettering University and a Master of Quality Management from Loyola University – New Orleans.
Paula attended Christian Theological Seminary in Indianapolis, Indiana and received her Master of Divinity degree in 2007. She is a lifelong Presbyterian and served as a deacon and a ruling elder prior to entering seminary. Paula has served on various committees and commissions in the Presbytery of the Pacific.

The Rev. Dr. Clayton Cobb
Scroll to read . . .
;
With heavy hearts, we join friends and family in mourning the death of Clayton Cobb on Saturday, January 2. Clayton served as a Church Consultant with the Board of Pensions for churches and presbyteries in Southern California, Arizona, New Mexico, Utah, Colorado, and Hawaii from September 2011 until his retirement in October 2019. Prior to working with the Board, he served as associate pastor and then pastor of several congregations in California, most recently as pastor of St. Peter's by the Sea in Rancho Palos Verdes.
Those who served with Clayton knew him to be a warm, and caring person. He was quick with a smile and a laugh and had a genuine desire to help others. We will miss his wit, his wise counsel, and his friendship. Our thoughts and prayers are with his wife, Jeannie, and their families.
Rev. Kristin Leucht
Church Consultant, Board of Pensions

Chaplaincy at LAC+USC Medical Center
Updated 12/2020
Videos, engaging stories, and a list of involvement opportunities are HERE. This ministry is made possible by your support through Presbyteries of the Pacific, San Gabriel, San Fernando and Los Ranchos and the Synod of Southern California. Please share with your presbytery and congregations!

Contact Information
Synod Staff
Phone: 818-810-6137
FAX: 818-891-0212
Synod Executive & Stated Clerk
MARK HONG ext. 109
Email (markhong@synod.org)
Business Manager
PAULA MANN ext. 110
Email (paulamann@synod.org)
Full Charge Bookkeeper
JOANNE BORTFELD ext. 107
Email (jbortfeld@synod.org)
REPL Coordinator
NARCISSIS TUCKER BISHOP
Email (ntucker@synod.org)


Synod Officers 2021
Contact officers through Business Manager TE PAULA MANN (ext. 110)
Email (paulamann@synod.org)

Moderator—TE Suzanne Malloy.

Vice-Mod.—RE Janine Tanahuvia.

Stated Clerk: TE Mark Hong

Treas.—RE Susan Skoglund

CoA Moderator— RE Pat Niles



Presbyteries of the Synod
Synod Business Items; Synod Funding Update
Synod Funding Opportunities
This section under revision. Please check with the Synod Business Manager, the Rev. Paula Mann, if you have a concern. Thank you for your patience.
PAULA MANN ext. 110
Email (paulamann@synod.org)

Synod Organization
Commissions/Committees
The Commission/Committee Contact is Business Manager Rev. Paula Mannn• Commission of Assembly (CoA)

• Synod Permanent Judicial Commission (PJC)
• Committee on Representation and Nominations (CR&N)

• Polity & Records

Mission Partner(s)
Related Entities
!-- BEGIN A ROW-->
Racial Ethnic Pastoral Leadership (REPL) Scholarship Program
INTRODUCTION
REPL provides needed spiritual and financial support for racial ethnic persons enrolled with presbytery within the Synod of Southern California and Hawaii as an inquirer / candidate for Teaching Elder (Minister of the Word and Sacrament), or with the presbytery and / or session for other professional ministry vocations.
• Priority for scholarships shall be given to persons pursuing the M.Div. degree or its equivalent, or other presbytery-approved programs, in preparation for meeting the requirements for various ministry vocations, including parish ministry:
INFORMATION SHEET (PDF)
APPLICATION FORMS:
HOW ?: See information sheet

DEADLINE: "Open." Apply at any time.

QUESTIONS? E-mail The Rev. Narcissis Tucker Bishop, Coordinator (E-mail)

APPLICATION FORMS
These forms should be completed online, using the forms (Microsoft Word format) that you will download from the links below. Submission should be by e-mail attachment.

Electronic (MS Word)
Parts I, II, III for applicant)
Part IV: (for recommendation)
Please note that applications are now accepted at any time.
Meet the REPL Committee!
A full-size version of this image is HERE.



Churchwide Resources
(Sources: pcusa.org , ga-pcusa.org, and pma.pcusa.org)
For your convenience, most of the links below will open in a new window.
Presbyterian Mission Website
The Presbyterian Mission website displays many new stories of mission and opportunities. Find it  HERE.
PC (USA) Churchwide Anti-racism Policy
Facing Racism–Vision of the Intercultural Communigy: Website and Resources

PC (USA) Blogs: Other Voices
Presbyterian News Service
Mission Agency
Blogs Listing
More PC (USA) Resources
More resources, including items in the Spanish and Korean languages, are linked
Categories include:
Recent Popular Korean Spanish


PDA assistance is assisting in areas throughout California which have been devastated by the recent wildfires and mudslides.
General Assembly 224
GA224 CO-MODERATORS

Elona Street-Stewart, executive of the Synod of Lakes and Prairies, and the Rev. Gregory Bentley, pastor of Fellowship Presbyterian Church in Huntsville, Alabama (Photo courtesy pcusa.org.
Presbyterian Disaster Assistance